The new, free FL Innovation Connect platform features news, an event calendar, a job board, and listings and information from hundreds of ecosystem partners and organizations.
Florida Venture Forum, Florida's largest statewide support organization for investors and entrepreneurs, is pleased to announce the launch of FL Innovation Connect (www.FLInnovationConnect.org), a free networking and information platform for the innovation and venture capital communities. The Forum collaborated with EcoMap Technologies to bring this open-source platform to Florida's innovation ecosystem.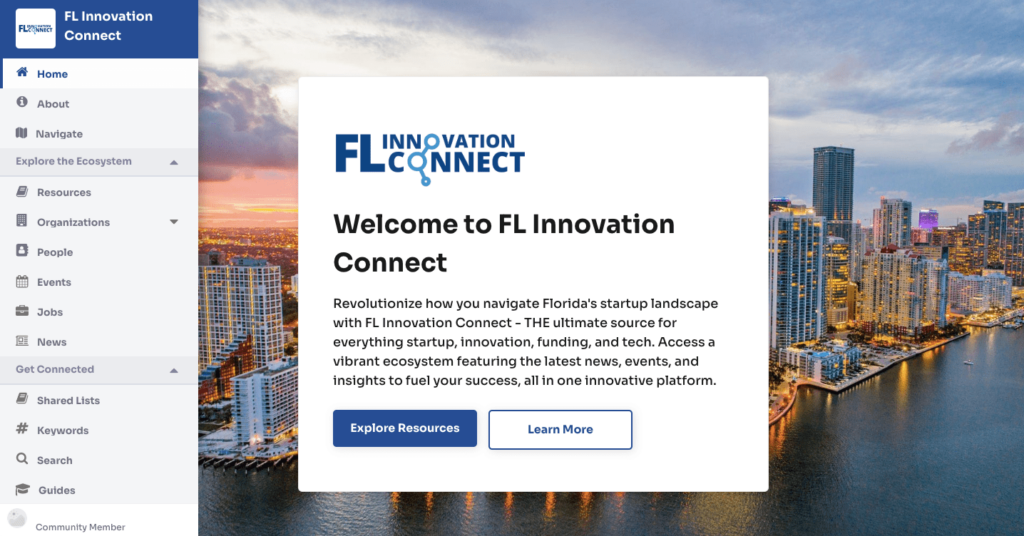 Why FL Innovation Connect was Launched
"Given the size our state and growth of our innovation ecosystem, it's challenging to be aware of all the great organizations, events, and information sources available to us," said Kevin Burgoyne, President and CEO of Florida Venture Forum.
"FL Innovation Connect puts everything in one place; from lists of investors and incubators, accelerators, and co-working spaces, to events and job opportunities, to individual and organization listings. Whether you are a founder, investor, service provider or entrepreneur support organization, we invite you to join and contribute to the platform."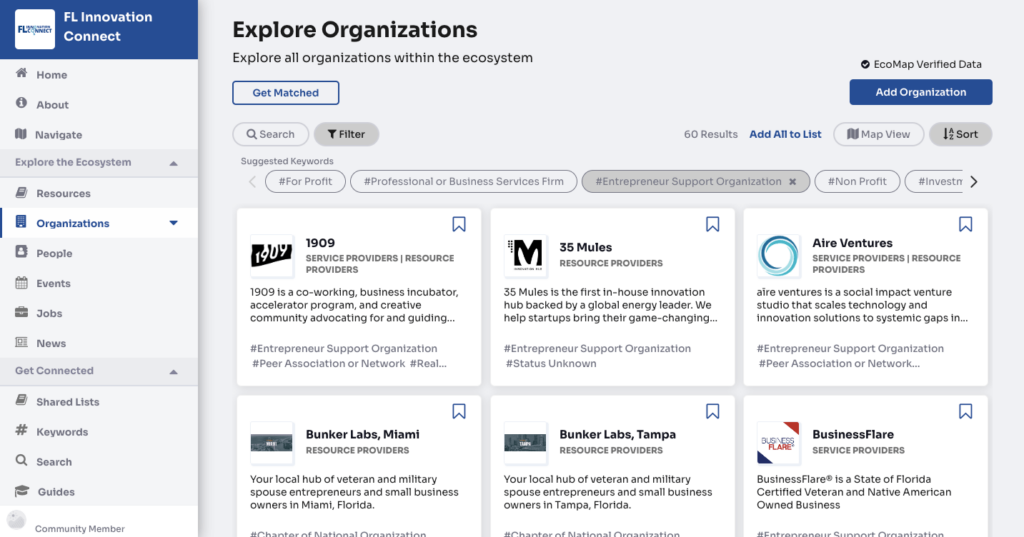 What FL Innovation Connect Provides
FL Innovation Connect is a no-cost, one-stop hub that connects the network and resources of Florida's innovation ecosystem. The platform's features include:
User-Controlled Listings: Individual, firm, and organizational listings managed by users
Searchable Listings: Easily find investors and services through a user-friendly search function
Founder/Entrepreneur Resources: Access educational content and resources for entrepreneurs
Statewide Event Calendar: Stay updated on conferences and events throughout the state
Job Board: Discover career opportunities and job listings for platform members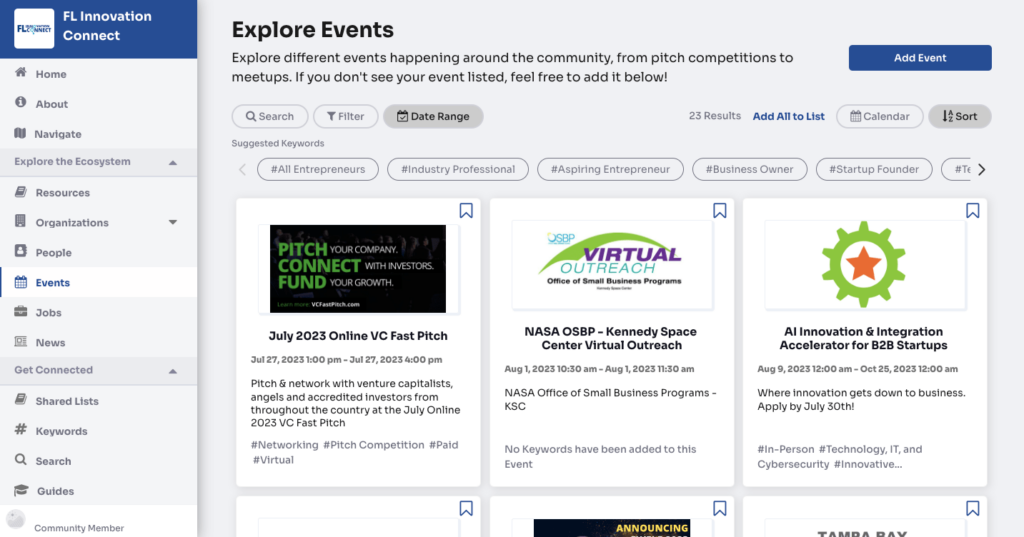 How to Get Started With FL Innovation Connect
The platform is completely free to use and allows registered participants to create profiles for themselves and their organizations, post events and jobs, and communicate in a safe, user-controlled platform. FL Innovation Connect is available now at https://flinnovationconnect.org. Sign up today and get connected!
About the Florida Venture Forum
The Florida Venture Forum is Florida's largest statewide support organization for investors and entrepreneurs, helping fast-growth companies connect with sources of capital from across the country. Since 1984 more than 2000 companies have presented at Forum events and have gone on to raise upwards of $16B in equity capital, producing billions more in economic value to Florida.
The Forum's 250+ members represent a "who's who" of venture capital and private equity dealmakers, including equity and debt investors at all stages, as well as major law, accounting, and investment banking firms, and large corporates active in the innovation ecosystem. The Forum provides programs and programming statewide throughout the year in addition to hosting major annual conferences like the Florida Venture Capital Conference, the Statewide Collegiate Startup Competition, the Early Stage Capital Conference, and industry-focused events including aerospace and healthcare. For more information, visit: https://flventure.org/.
About EcoMap Technologies
EcoMap Technologies is a Baltimore-based start-up that creates platforms that help people navigate ecosystems. EcoMaps are data-driven platforms that centralize information about the organizations, resources, people, and activity within any given ecosystem into a one-stop online hub. EcoMap platforms make it possible to easily navigate any ecosystem, including local business communities, entire industries, and even corporate networks. Visit https://www.ecomap.tech for more information.